" I realise that coffee is no longer serving my nervous system. Since switching to Raven Roast, I have experienced significantly less anxiety and less fatigue, while still enjoying the stimulating energy of caffeine offered by the roasted yerba maté."
Are you questioning your chemistry with coffee?
Raven Roast is full of delicious and wholesome ingredients that make it easier for you and coffee to go your separate ways.
We're all about superfoods, not super-crash! Raven Roast coffee alternatives are made up of carefully selected blends of superfoods. These heavy hitters replace any type of grain-based fillers that you often see in other products. The superfood ingredients include:
Collapsible content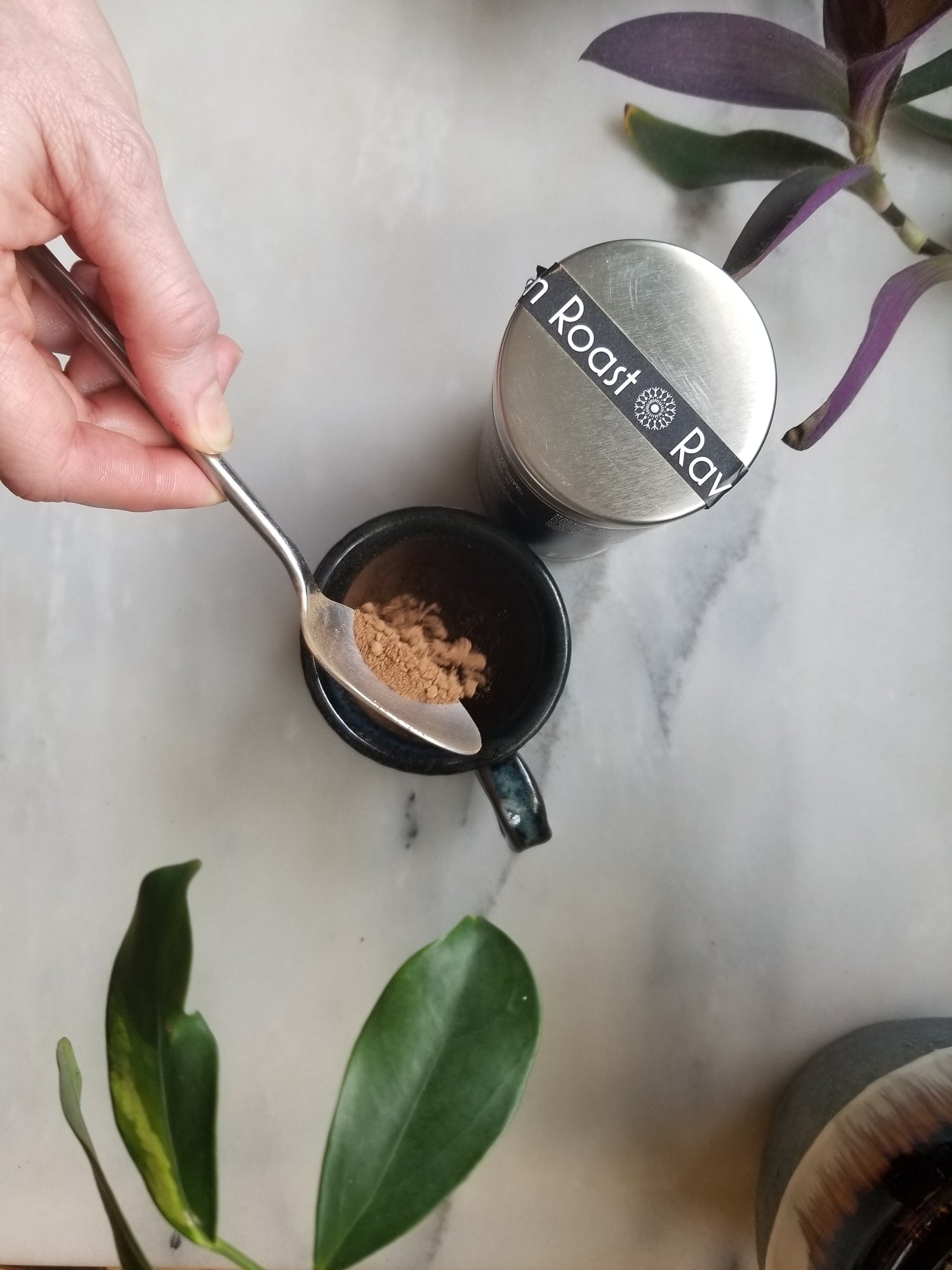 Ramon Nut

Ramon nut (or breadnut as the ancient Mayans called it) is the seed of a common fruit grown all over Latin America. It is not a true nut, so it doesn't pose a nut allergy risk.  When roasted, it has a rich chocolatey flavour similar to coffee. It has antioxidant properties and contains trace minerals and tryptophan, which help with nervous system and mood regulation, PH balance and inflammation.
Dandelion Root

Roasted dandelion root has a deep, earthy flavour and has long been used as a coffee replacement. It is known for its antioxidant and liver-cleansing properties. It is a bitter "prebiotic" - it helps to feed healthy gut flora and promote healthy digestion.
Cocoa

As you probably already know, this familiar bean is the main ingredient in chocolate. Cocoa on its own boasts many health benefits; it improves blood-pressure, supports neurological health, helps to regulate blood sugar levels, and even can help with asthma. It contains theobromine which acts as an appetite suppressant, energy booster, and is the main stimulant in cocoa. Caffeine amounts in cocoa are negligible. Raven Roast's Cocoa Ramon does contain this trace amount of caffeine.
Chicory

Roasted chicory root is a rich, bitter herb that historically blended with coffee or used as a substitute when coffee supplies were slim. It was traditionally used as a digestive bitter and to prevent constipation. Chicory is high in inulin which is a prebiotic that helps to feed beneficial gut flora.
Ashwagandha

This adaptogenic herb helps to regulate stress and anxiety by reducing cortisol levels. It has anti-inflammatory properties and has been shown to help with brain function, blood sugar levels, and low mood. 
Chaga

Chaga is an immune-boosting adaptogenic mushroom with a rich dark taste similar to coffee. It contains many trace minerals and vitamins, making it delicious and nutritious.
Yerba Mate

This ingredient is only in our caffeinated blends - Mocha Mate and Chaga Mate. Yerba Mate is an antioxidant and nutritious stimulant from South America. Its caffeine content is very stimulating but does not cause "the jitters" or an afternoon crash. It has been used as a weight-loss aid, to prevent heart disease, and to lower cholesterol.
Raven Roast supports holistic health by being gluten-free, low-carb and sugar-free
Introducing…a blend with a conscience
Here at Raven Roast, we prioritise quality, community and sustainability when sourcing ingredients. We work with ethically minded and family-run organic farms across the globe. The farms provide excellent working conditions for staff and the farmers have an ecological perspective on farming. 
Coffee agriculture contributes to deforestation and degraded soil quality. Coffee is a crop that will not fare well as climate change increases in severity. Raven Roast ingredients are common and abundant and many of them grow easily in sub-par soil. 
Ramon trees in particular grow in abundance all over Central America and they help to prevent soil erosion and improve soil water retention. Our Yerba Mate is shade grown under the rainforest canopy, ensuring that no trees are cut down during the agricultural process.
"I love your product. I'd been wanting to give up coffee for a while and just hadn't found anything that felt like the ritual or energy I'd get from coffee until now. I love the taste and how I feel. It's lovely and rich and hearty."  
Let's get to know each other better…
Be the first to get the scoop on deals, giveaways, new products, recipes and more.